CHOOSE A SIDE, DEVELOP YOUR STRATEGY, AND ULTIMATELY BATTLE TO BECOME THE MASTER OF WILLS®
The game of Master of Wills® is like none you have played before. It is a truly special strategic masterpiece that will test your skills, instincts, and mind. You will have to first determine what Faction best suits your skill set and then carefully decide on the approach you will take to attack and defend against your opponent. But unlike most deck building games, MOW doesn't rely solely on your Faction decks but also on your ability to manipulate the movements of the Community deck.MOW is fairly easy to learn but is difficult to master which makes it an absolute must play for strategic gamers worldwide.
The board is set with three rows (Recruits, Loyalists, and Allies) on each side and a neutral area in the middle. Your objective is to bring as many Community members from the neutral area to your side by the end of the game. The points earned for each player on their side the board will determine who is the Master of Wills®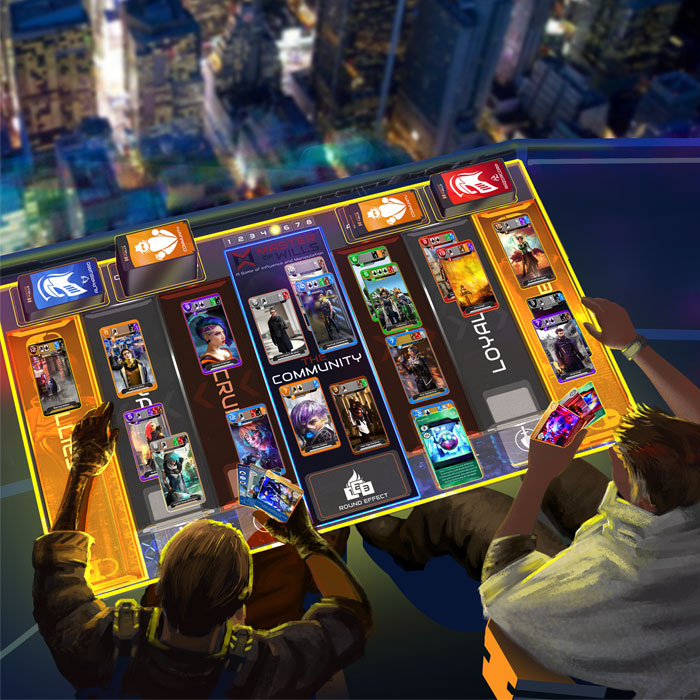 BUILDING YOUR FACTION DECK IS THE KEY TO SUCCESS BUT NOT YOUR ONLY ROAD TO VICTORY
Master of Wills® is a deck building game. The Faction decks provide you with a
variety of styles of play that make for unlimited fun through different strategies.
Are you an offensive player? If so, perhaps you want to use a heavy dose of Kill, Afterlife, and Draw Community Faction power cards.
Are you a defensive player? Well then make sure to take with you a good amount of Remove, Move, and Lasting Effect cards.
Or maybe you pride yourself in your unpredictability? If so, we're betting you with have a deck full of Reveal, Spy, and Round Effects.
Choose wisely and adjust often to counter the type of opponent you are playing. It may take a while but eventually, you will build your ultimate MOW deck!
MANIPULATE THE COMMUNITY CHARACTERS AND INFLUENCE THE OUTCOME OF THE GAME
Unlike other deck building games, Master of Wills® offers a new challenge. You are not just playing with your deck of Faction cards but also a Community Deck. This deck contains characters who represent roles in the Community. Each character can influence other characters on the board, both positively and negatively.
The reality is that you may be able to win the game even if your Faction cards don't have an impact. Choosing the right Community card is just as important as playing a powerful Faction card.
Check out the Community cards in our Card Database to learn more about the characters that make up the Community.